About Us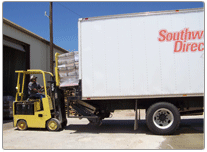 Southwest Direct started its operation in May 2002. The company began with 15 full-time and 5 part-time employees, all with prior direct mail skills. Phil Gage has been in the mailing industry for 38 years. Phil's previously owned company, MAC Direct, was sold to Knight Ridder in 1999 where they employed 75 workers. After a short retirement, he opened Southwest Direct. SWD specializes in personalized direct mail pieces with intricate knowledge of data processing, data manipulation and data analysis.
Equipment includes high speed Xerox lasers, high speed inkjet addressing, machine insertion along with smart or intelligent inserting, offset printing as well as digital printing. SWD can produce highly personalized letter packages, self mailers, brochures, post cards, statements, tabloids and fulfillment projects.
SWD serves many different types of clientele across the United States. Just to name a few...
Banyan, Pier 1 Imports, Abilene Chamber of Commerce, County FSA's, FDLIC, First Financial Bank;
Non-profit clients include Abilene Christian University, McMurry University, Ben Richey Boys Ranch, United Way of Abilene, Hendrick Medical Center, West Texas Rehabilitation Center, Ed Young Ministries, Jewish Voice, Herald of Truth, Dream Center; over 14 universities across the U.S. and dozens of hospitals; major campaigns for the American Heart Association, the Arthritis Foundation and the American Red Cross.


As a Xerox Graphic Arts Premier Partner, Southwest Direct is one of the world's leading companies for digital printing. Each Premier Partner, an expert in digital printing, demonstrates its commitment to meeting customers' needs through innovative use of digital technologies. Xerox congratulates Southwest Direct on North America's first order of the iGen4, which was recently introduced to the printing industry at Graph Expo 2008 in Chicago, the nation's largest annual printing tradeshow.